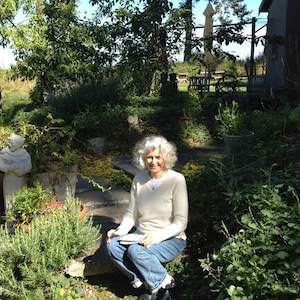 Welcome to my web site, and thank you for your interest in my work! I write from our home near Port Townsend, Washington where my husband and I relocated after a long time in Alaska where we raised our sons.

My work may be found at the Bainbridge Arts and Crafts Gallery on Bainbridge Island, and Vamp & Tramp, Booksellers (www.vampandtramp.com) represent my artists' books. My newest work is often on my blog, Her spirits rose... (http://katygilmore.wordpress.com) or on my artist facebook page (www.facebook.com/gilmorekaty)

For many years, I've explored images of everyday objects (including most often flowers and gardens) on quilts, artists' books, and in watercolor on paper. I've exhibited my work in more than 20 solo shows and many group shows. In the past I enjoyed writing and illustrating articles for the Anchorage Daily News, and The Year in Flowers: A Daybook, published by Alaska Northwest Books. My illustrations have been published by Galison Books and Peter Pauper Press.

Long ago, I earned a BA in English from Alaska Methodist University and an MA in Illustration from Syracuse University.